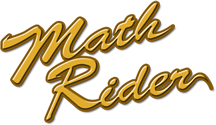 Last year we were blessed to receive several math programs to review.  One of our absolute favorites was an intelligent math game for kids called Math Rider.  We were thrilled to find out that this year we would get to review the newest version of Math Rider!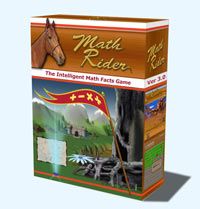 PRODUCT DETAILS
Math Rider is a great, great interactive math game that will help to build your children's mastery of math facts.
See last year's review of Math Rider.
As with the version we reviewed last year, the kids go on adventures called "quests", riding their horse over obstacles – to get the horse to jump the obstacle, you have to answer the question correctly!  If a child struggles with a particular problem, the game will provide the answer – and then the problem will reappear later!  There's no maneuvering in the game, so lack of hand-eye coordination won't affect your child's play – all that's required is typing in the correct answer.
The four quests are the same across the four operations, however, the rewards are not. Every combination of quest and reward holds a different reward. The rewards are all animated according to how well the player answered the questions.  If your child gets frustrated about having to repeat a quest, remind them that a new reward is coming!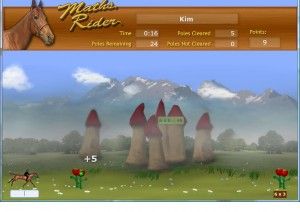 Each operation (addition, subtraction, multiplication and division) contains four quests, ranging from easy to master.  Parents can select the operations,the difficulty level, and the numbers to be used in the problems.  The child should use the easy addition quest first.  The software will recognize the child's abilities and advance them – the interactive technology recognizes how your child is doing and adjusts the questions. Pretty amazing!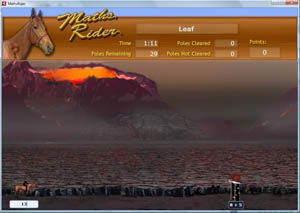 Parents can see their children's progress, so you can keep an eye on how they're doing, including seeing how long it takes them to answer the question, where they're struggling, etc.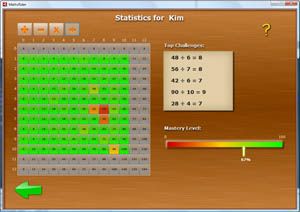 My youngest daughter got frustrated a couple of times, saying she was providing the correct answer but that the game was telling her it was wrong.  When I asked her to show me so I could see for myself, she could never recreate the problem.  We didn't have that issue last year, so I'm not sure if my daughter was mistaken, or if there might be an issue with the new version.  Even with that problem, my daughter (well, actually, both of them) truly love this game.
Watch this video to find out more about version 3:
Math Rider retails for for $49.95 but through February 14, 2012 you can get it as an instant download for just $37 (the price is set to go up on February 15)!  A very small investment for the amount of improvement in math skills your kids will experience – not to mention the fun they'll have!  The software runs on Windows, Mac OSX and Linux (temporarily – read the special note about Linux systems HERE.  A 7-day FREE trial is also available, but be warned – once your kids start "playing" this math game, they'll want to keep playing!   Also, try it for 30 days at no risk, because the company offers a 30-day money back guarantee.
COMPANY CONTACT INFO
Office Address:
Sharper Edge Pty Ltd
31 Hannah Street
Beecroft NSW 2119
Australia
Phone: +61 2 8005 8531
Office hours:    9am to 5pm (East Australian Time – GMT+10), Mon-Fri
Submit a question by e-mail HERE.
Read the FAQ HERE.
Visit Math Rider on Facebook page.
Visit Math Rider's blog HERE.
FINAL THOUGHTS
Just like last year, my girls loved this program.  Math Rider makes it easier for me to have the girls practice math skills, and I love that!
THOUGHTS OF MY CREW MATES
To see other reviews of this product, click HERE and look for the linky tools list at the bottom of the post. For giveaways, other product reviews and other fun things, follow the 2011-2012 TOS Homeschool Crew blog at:
**Disclaimer: As part of the 2011-2012 TOS Homeschool Review Crew, I received a trial of the product referenced in this review at no cost in exchange for my fair, honest and unbiased (and not necessarily positive) review. No other compensation was received.