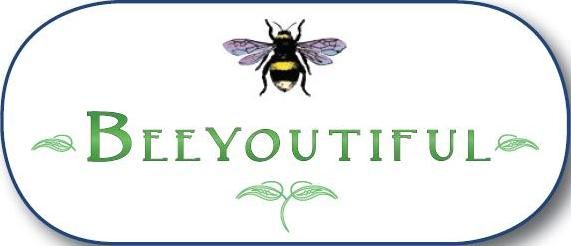 The box of review products arrived addressed, as usual, to me.  The difference this time was that the box contained natural, pampering products for me from Beeyoutiful.  Exciting!  When I opened the box I found two products to enjoy – the Milk & Honey Facial Bar and B.A.L.M. Lip Moisturizer.

PRODUCT DETAILS
Lip balm has been around for ages – but have you ever really read the ingredient list for many of the brands?  It's actually kind of scary.  Compare it to the ingredient list for Beeyoutiful's B.A.L.M. Lip Moisturizer:  grapeseed oil (organic!), shea butter (organic!), beeswax and essential oils.  The essential oils (orange or peppermint) are what gives the B.A.L.M. Lip Moisturizer its flavor.  I received the peppermint version to review. 
I love this lip balm.  The peppermint oil gives it a wonderful taste and smell (I'll admit to smelling it every time I opened it before I applied it to my lips), and provides a nice tingle when  applied.  I've kept it by my bed and applied it nightly since I received it, and my lips are in great shape! 
It's nice to know that rather than applying chemicals, with this lip balm I'm applying ingredients that are good for my lips – ones that are meant to nourish and heal.  This is definitely a product that I will purchase more of, and I can't wait to also try the orange flavor!
The lip balm comes in twist-up tubes weighing of 0.15 ounces.  They are available for $3.00 each HERE.  This is a bargain – have you checked prices for "natural" lip balms lately?  The orange flavor also has a notation that if you buy 3 or more the price drops to $2.70 each, but the peppermint has no such note (and when I added 3 peppermints to my shopping cart to double-check, the price did not decrease).   
There are so many facial products these days that it's overwhelming trying to find something that works for your skin.  The "natural" ones, including the product line that I normally use, are quite expensive.  I was excited to try Beeyoutiful's Milk & Honey Facial Bar.  
The facial bar is 4.25 oz., and comes wrapped in plastic in the adorable shape of part of a honeybee hive.  The ingredients are raw goat milk, distilled water, olive oil, coconut oil, palm oil, vitamin E oil, vegetable oil, sodium hydroxide (lye), raw honey, bee pollen, bee propolis, beeswax, sweet orange essential oil. 
Information on the functions of the ingredients from the website:
Two natural treasures in one bar of soap help repair sores, fight acne, soothe chapping, and balance uneven or oily skin. Bee products—honey, propolis, pollen and wax—meet goat milk to clean up the toughest skin problems you can muster.

Honey cleanses dirt and impurities while smoothing wrinkles by increasing your skin's elasticity. Propolis—a mixture of the essential oils, pollen, and wax bees harvest from plants—nourishes dry, itchy skin. Pollen, rich in enzymes and vitamins, contains the complete family of amino acids. It promotes new skin cell growth while scrubbing away built-up dead cells without stripping the skin of its natural protection. Milk & Honey's beeswax base is the all-natural "carrier" for other ingredients that leaves your skin feeling soft and clean.

Raw goat milk is rich in enzymes beneficial to your skin, and five natural, skin-replenishing oils balance and moisturize. This abundance of revitalizing components is topped off with a touch of sweet orange essential oil for an agreeable, bright aroma.
The facial bar sells for $10.  Discounts are available:
Buy 3 for $9.00 each and save 10%
Buy 6 for $8.50 each and save 15%
Buy 12 for $8.00 each and save 20%
I must say that when I unwrapped the bar the scent I was greeted with was…well, unpleasant.  I expected the scent of the sweet orange oil, and that's nowhere near what I smelled.  I placed the bar on a saucer next to the sink and used it a couple of times over the next several days, but only on my hands (because of the scent) - after that, the smell had dissipated a bit so I was able to use it on my face.  Even after all this time, it still doesn't smell like orange.
However, scent aside, I love this bar.  During the time I used it, I stopped using my usual (and expensive)  facial products.  To me, my face actually feels better with this soap.  My face is soft and supple, and a couple of trouble spots I've had for a while are now gone.   I may just give up my usual facial product line in favor of this simple, lovely bar.

BE SURE TO
View/download the current Beeyoutiful catalog.
Read about Beeyoutiful HERE, and about Beeyoutiful's values HERE. 
Check out the  Beeyoutiful forums.
Check out great health-related articles and videos.
On the website you can shop by product, or  shop by health concern.
Check out the Bee Points Rewards Program.
Read Beeyoutiful newsletters.

COMPANY CONTACT INFO
Phone:  800-556-0967
You can submit a question HERE.
Find Beeyoutiful on Facebook HERE.

FINAL THOUGHTS
I will be ordering more products from this company!

THOUGHTS OF MY CREW MATES
To see other reviews of this product (and of other Beeyoutiful products), click HERE and look for the linky tools list at the bottom of the post. For giveaways, other product reviews and other fun things, follow the 2011-2012 TOS Homeschool Crew blog at:

**Disclaimer: As part of the 2011-2012 TOS Homeschool Review Crew, I received the products referenced in this review at no cost in exchange for my fair, honest and unbiased (and not necessarily positive) review. No other compensation was received.