Sometimes learning is hard work, especially when it's something as seemingly unrewarding as remember math facts. The beauty of the magnitude of homeschooling curricula available today is that there is usually something that will make a tedious task more interesting.
That's what MathRider has helped accomplish for us. MathRider provides an enticing way for kids to practice their math facts.
A caveat - if your family avoids magical elements, be sure to read my "Watch out for" list about the content before you decide to purchase.
Product Details
MathRider is available as an instant download here for $37.
FAQ can be found here. Up to ten players are allowed on one license. You can contact the company here (note it is an Australian company).
MathRider was born because the creator's own children had trouble memorizing basic math facts.
MathRider provides practice with math facts in all four operations, with numbers through 12. Each operation has four "quests" - easy, medium, advanced and master - and it is highly recommended that each quest be completed in order. Each quest involves the rider in a storyline with a need to ride through the Mathlands for great and noble causes.
Each quest takes place in the forbidden land of Mathlands.
The rider (your student) starts in the Land of Ray riding on a horse named Shadow. Your student chooses a basic operation to practice, then a level of quest. As the ride begins hurdles appear with math questions - your student types in the answer, hits enter, and Shadow jumps the hurdles.
If your student misses a question, the hurdle slats disintegrate and Shadow comes to a halt until the correct answer (shown above the hurdle) is typed in - once the correct answer is typed in, Shadow rides through (not over) the hurdle but no points are given. At the end of each section of the quest, a bar graph appears, allowing you to hover over each bar to see the problem, the average time it took your student to solve it, and the previous average time for solving.
Each quest begins with a story, and has a certain number of points needed to complete which your student earns for correct answers and for speed. When your student finishes the quest, he or she is told the ending of the story.
Artificial intelligence keeps track of how your student is doing:
Statistics are available for each of the four operations by clicking the operation symbol in the upper left-hand corner of the screen shown above. You are given the student's challenges (beige square on the right), and shown their problem spots (non-green blocks on the left). This screen is even helpful for the students, as when you click on a number you are given a visual for solving the problem (note that each box is the answer to that operation using the numbers along the x axis and the y axis).
More details on game play are available here
, and you can also watch the following short YouTube video:
What I like
I like that this game makes practicing math facts fun, and that the students are rewarded for increasing their speed and accuracy.
I like that the program stores answers (or non-answers) and customizes the problems given according to what the student knows or doesn't know, or needs more practice in.
I like that there is a practice mode where you can set up a certain number for practice. For instance, 7 times tables have always been hard for us, so I can easily set up a practice run for 7 times tables using 1-12, and the results of the practice run don't count against the quest and aren't used in the student's statistics.
I like that my girls asked
to use this program (which resulted in them willingly practicing their math facts). Here's a pic of Punkin one Saturday when she accompanied me to work - the one thing she wanted to take with her for entertainment was our computer that has MathRider installed on it so she could "play":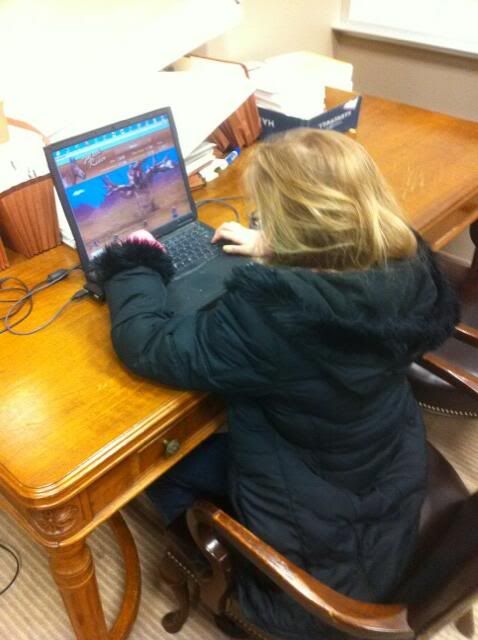 Watch out for
This game is a fantasy game, and includes some things that many homeschoolers avoid like magic, elves, mystical lands, unicorns, etc. My girls are fairly well grounded and know that these things are make-believe, and once in a blue moon I allow something like this into my home even though I much prefer not to. I'll admit that if I had known about the contents, I might not have been interested - but I'm glad I had already committed to review the game, as the girls paid no attention to those elements and concentrated on the math facts practice. So buyer beware, if you completely avoid things like this in your home.
I wish…
They could make the quests without the magical elements.
I wish the problems used numbers larger than 12.
The quests are the same across the operations (i.e., the quest for easy addition is the same basic story as the quest for easy subtraction). I wish the quests were all different, because I think that would motivate the students to go back and repeat each level of each operation more than once.
I wish there was a mixed operation quest with the same four levels - easy, medium, advanced and master - so that students could be more practice. If not a level with a mixture of all four operations, then perhaps an addition/subtract quest and a multiplication/division quest.
Be sure to
Take note of the 30-day guarantee. If you don't notice a different in your child's abilities in basic math facts, or if you are dissatisfied for any reason, contact the company within 30 days of purchase for a full refund.
Final thoughts
I really wish the quests didn't include magic elements, so that I could wholeheartedly recommend this game. I'm undecided about what to do when our free trial is over, as the girls are really disappointed that they might not be able to finish their quests. I've seen a big improvement in their speed, so perhaps I can find a way to reinforce the "magic isn't real" conversation and let them continue with the game. I guess it's a matter of prayer. But if for your family magical elements isnt' an issue, this is an incredible tool to teach your kids the basic math facts!
Thoughts
of my crew mates
To see other reviews of this product, click
here
. For giveaways, other product reviews and other fun things, follow the 2010-2011 TOS Homeschool Crew blog at: