My bookshelves are overflowing with books – I am a self-proclaimed bookaholic, and I wouldn't have it any other way.   When I find quality books, I want to buy them.  I love it when I can find quality books in electronic form, and Heritage History provides just that.   The mission of Heritage History is to make old-fashioned history books, written for the enjoyment of young people, easily available.  Mission accomplished.
PRODUCT DETAILS
Heritage History currently offers five Libraries configured as complete curriculums:
Young Readers
Ancient Greece
Ancient Rome
British Middle Ages
British Empire
Each Curriculum CD includes biographies, legends, hero stories, and historical literature as well as comprehensive histories. In addition to books, study aids, including timelines, historical maps, and era summaries are provided in printable format.   Each CD is $24.99, or you can purchase all five for $99.
Heritage History also offers three (soon to be four) Classical Libraries:
Early America
Spanish Empire
Christian Europe
Modern Europe (available Fall 2012)
Each contains dozens of books at reading levels from fourth grade to college prep, as well as specific recommendations for beginning, intermediate, and advanced readers.
We received the Ancient Rome CD for review. 

The Ancient Rome CD includes the complete illustrated text of 45 books, over 60 maps, timelines, battle dictionaries, reading recommendations, geography terms, short biographies, historical era summaries, and a ready-to-print Study Guide for one low price.
The 45 e-books included are (each one is linked, so you can read a little bit about it):
Roman Life in the Days of Cicero
Pictures from Roman Life and Story
Aeneid for Boys and Girls
Last Days of Jerusalem: From Josephus
Stories From Livy
Burning of Rome
To the Lions
Lords of the World
Lucius: Adventures of a Roman Boy
Crown of Pine
Our Little Roman Cousin of Long Ago
Our Little Carthaginian Cousin of Long Ago
Famous Men of Rome
Story of the Romans
Augustus: His Life and Work
Julius Caesar
Historical Tales: 11—Roman
History of the Church: Christian Antiquity
City of the Seven Hills
Herman and Thusnelda
Story of Rome
Julius Caesar
Cleopatra
Hannibal
Nero
Romulus
Peeps at Ancient Rome
Stories from Roman History
Story of the Goths
Story of Carthage
Story of Rome
Jews under Roman Rule
Byzantine Empire
On the Shores of the Great Sea
Old World Hero Stories
Helmet and Spear
Stories from Ancient Rome
Roses of Martyrdom
Gods and Heroes or The Kingdom of Jupiter
Children's Plutarch: Tales of the Romans
Early Church: from Ignatius to Augustine
Our Young Folks' Plutarch
Stories in Stone from the Roman Forum
Story of the Roman People
Plutarch's Lives

The CD includes three versions of each book, which makes it easy to choose your preferred format.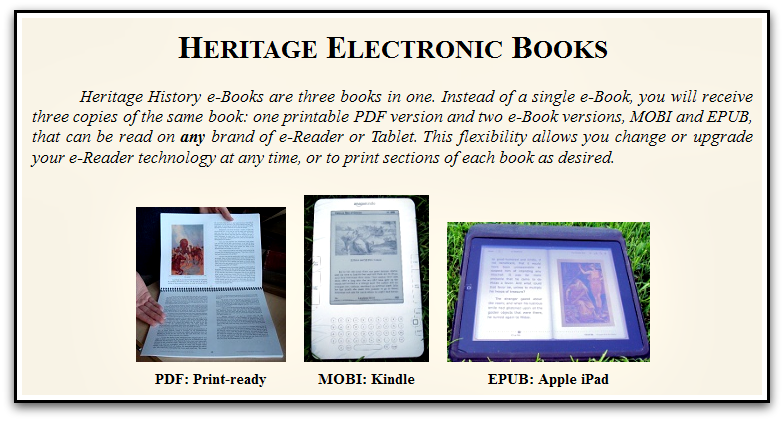 The study guide is included on the CD, but you can also purchase it separately (pre-printed and ready for insertion into a 3-ring binder for $24.99, or downloadable version for $12.99).  The study guide includes tips on using the curriculum/books, scheduling and hints on figuring out reading level.
WHAT I LIKE
Love the quality of the books.
Love that this can be used for kids of all ages (the study guide offers tips/suggestions for various ages).
LOVE the value!  $24.99 is a bargain for everything that's included on the CD.
Love the Battle Dictionary – what a great resource!
I was impressed by the ease of use and the ease of loading these books on my iPad and Kindle.
The girls loved the maps, and after our trip last year to Italy they were especially interested  in looking at the places we'd visited.
BE SURE TO
Read the FAQ.
Read the Heritage History classical curriculum user guide.
Find helpful information on e-readers HERE, including how to load the Heritage History books on your device.
See copyright info HERE.
See tips on combining Heritage History with other curricula.
View Heritage History's recommendations.
As of the date of this post, Heritage History's  Spring Curriculum Sale is still being offered - purchase two  CDs and get a third free!
Enter the drawing to win a Kindle Fire with your choice of any Heritage Classical Curriculum CD.

COMPANY CONTACT INFO
Mailing address:
Heritage History
P.O. Box 901
Newman Lake, WA 99025