An apologetics/worldview curriculum for kids?  You bet – It's by Apologia Press (a division of Apologia Educational Ministries, Inc.). and it's fantastic.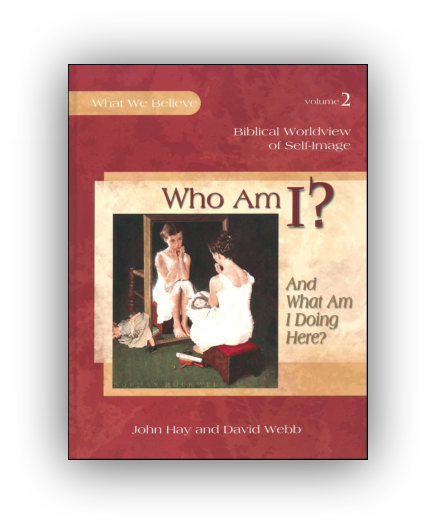 Last year we had the privilege to review the first book in the "What We Believe" series, titled Who is God? (And Can I Really Know Him?)  (You can read that review HERE.)
This year I was thrilled to find out that we'd get to review the second book in the series, titled Who Am I? (And What am I Doing Here? )
PRODUCT DETAILS
Apologia Press has partnered with Summit Ministries to publish the "What We Believe" series.  This series focuses on the essential beliefs of the Christian faith.   It is a student-directed, Bible-based curriculum which will teach your children how to use Scripture as a lens through which to view the world around them—to see everything the way God sees it—and know the truth.  (paraphrased from the Apologia website)
As with the first book, this second book in the series is a beautiful, hard-bound visually enticing book (262 pages) targeted to ages 6-14 which contains eight lessons and retails for $39.  It is recommended that each lesson be covered for three weeks, two days per week.  Each lesson contains several key sections:
1 -The Big Idea - an introduction to the main topic of the lesson (and a review of what the student has learned so far).

2 - What You Will Do: learning objectives for the lesson.

3 - Short Story: gives your children a peek into the lives of children around your children's age with differing worldviews, and who work through the issues in the story by seeking counsel through the Bible and their parents. The story allows your children to see what holding a worldview looks like in action.

4 - Think About It: questions that reinforce the story and which encourage your children to think about the issues in the story plus allow you to check for comprehension and understanding.

5 - Words You Need To Know: vocabulary words used in the story, including their definitions, that your children can use in their notebooking exercises.  

6 - Hide it in Your Heart: Two recommended memory verses:  one to reinforce the Biblical theme of the lesson, the other to focus on a related character trait.  

7 - Integrated Learning: interesting articles related to the main text which will allow you and your children to connect and pursue the book's ideas/concepts in other fields of study.  

8 - What Should I do?- it's not just enough to know the material in the lesson, so this section helps your child learn to apply what they've learned to their own life.  

9 - Prayer: allows your family to acknowledge the attributes of God and to simply thank Him for who He is.

10 – Worldviews in Focus: The main part of each lesson focuses on a Christian worldview. This section helps children start to understand why others.

11 – What's the Difference?:  This section helps students compare their own worldview with the worldview(s) demonstrated in the "Worldviews in Focus" section.

12 - House of Truth - a hands on memory aid, the House of Truth is a model constructed one step at a time, giving the child a concrete visual of thinking about his life within the Kingdom of God.
You can view the Table of Contents HERE.
You can view a sample chapter HERE.
Companion products for the book (which we were fortunate to also be able to review) are:
Notebooking Journal - $24

Made in the same visually enticing format as the book, the notebooking journal contains 248 pages intended to help the student process the topics in the book.   This journal is a magnificent tool to use alongside the book, and will reinforce the student's learning and investigation.  Included are notetaking pages, pages for writing the memory verses, prayer and praise pages, vocabulary pages, pages for drawing, and word puzzles/crosswords (always a big hit in our house – and the answers are in the back).

I had to buy another one for my other daughter.  Honestly?  I'd kind of like to have one too.  :)

See  the Lessons Plans HERE.  See a sample HERE.

 

Coloring book - $8

A simple, 64-page coloring book with pictures to accompany the stories/lessons.  The pictures to color are complex enough to also hold my girls' attention. 

See a sample HERE.

 

Audio Book MP3 CD - $19

The entire book, read by Emmy winner Marissa Leinart.  We love listening to this in the car.

Listen to a sample HERE.
WHAT I LIKE
Biblical truth, broken down so that even the youngest student can understand it. 
The lesson plans in the Notebooking Journal!
Love the prayer and praise pages in the Notebooking Journal – a fantastic way to start kids on the journey of keeping a prayer journal.
The "Find Out More" pages in the Notebooking Journal – suggestions for things  to do, books and songs to go along with each lesson.
The appealing and enticing pages and layout.  These products are truly a joy to use.
When you purchase the book, you're given the password key to a wealth of supplemental information:  teacher helps for all ten lessons, notebooking pages, info on the House of Truth model, etc.
[And all the other things I liked from the first review!]
I WISH…
I wish the coloring book referred to the appropriate book pages. Sure, I can figure it out – but it'd be much easier to know at a glance which coloring page goes with which pages in the book.
Last year one of my wishes was to find the House of Truth model from Summit Ministries mentioned in the book.  This year it's available, but at $125 it will have to wait.
WATCH OUT FOR
These fit perfectly with our beliefs, but if you're not of a Protestant faith, be warned that they are written from a Protestant point of view, with discussion on other belief systems. 
While the coloring book may be laid out in a simple fashion, some of the pictures aren't so simple and might be frustrating for very young ones.
As with my review for the first book, I'll caution you not to feel tied to the suggested schedule.  These lessons are meaty, so go as slow as necessary and discuss as much as necessary.
While you can certainly do each book in the series separately, I highly recommend starting with the first book and progressing through the series.
Books 1 and 2 are available with all accompanying products.  Book three is available, but as of this post no accompanying products are available for order.  Book four is due sometime this year (2012).
BE SURE TO
Check the conference schedule HERE, and see where you can see Apologia staff and products in person.
Request a catalog HERE.
Check out the FAQ HERE.

COMPANY CONTACT INFO
Apologia Educational Ministries
1106 Meridian Plaza Suite 220
Anderson, IN 46016 US
Phone: (888)524-4724
Fax: (765)608-3290
You can submit a question to the company via e-mail HERE.
FINAL THOUGHTS
I can't express strongly enough how much I love this series.  Highly recommend it!
THOUGHTS OF MY CREW MATES
To see other reviews of this product, click HERE and look for the linky tools list at the bottom of the post. For giveaways, other product reviews and other fun things, follow the 2011-2012 TOS Homeschool Crew blog at:

**Disclaimer: As part of the 2011-2012 TOS Homeschool Review Crew, I received this product, along with the accompanying supplementary products, referenced in this review at no cost in exchange for my fair, honest and unbiased (and not necessarily positive) review. No other compensation was received.