Pick up most consumable things in a normal  household and you'll see natural and artificial flavors, dyes, chemicals, nitrites/nitrates, etc.   If you take the time to research these ingredients, it's fairly scary what we're eating and using on our bodies.  Then to counteract the junk that we eat (and to compensate for the good things we don't),  we fill ourselves with even more chemicals (medicine).  As a  homeschooling mom to two very active girls, and who works part-time  outside the home, it's hard for me to do things as  healthily as I'd like.  Add to that girls who love the taste of convenience foods and it's an uphill  battle to make things healthy.   I welcome every little bit of help I can get.
PRODUCT DETAILS

Vintage Remedies was founded in 2005 by Jessie Hawkins, a busy homeschool mom who desired to help families learn more about healthy and natural lifestyles by offering her consulting services.   Her business was so successful it has expanded to include curricula to teach healthy living to kids – Vintage Remedies for Tweens, Vintage Remedies 4 Kids, Vintage Remedies 4 Guys, and the book we received, Vintage Remedies 4 Girls.  From the website:
Vintage Remedies for Girls teaches healthy and natural living to girls ages 7-13. Our new workbook is packed with over 200 pages covering every aspect of natural living including wellness, nutrition, herbal medicine, immunity, natural cleaning and body care, and the conservative use of valuable natural resources. Girls will learn how to identify unhealthy foods, how to create a healthy real foods menu (and prepare it for some friends!), how to make natural cleaning supplies and skin care, how to make cheese, how to grow culinary and medicinal herbs, how to create basic herbal preparations, and much, much more!

This workbook is flexible and can be used for existing scouting groups, to form new girls groups, as a homeschooling curriculum, or to create fun mommy - daughter projects throughout the year. Each of the 18 chapters includes a brief lesson on the topic, a featured project, instructions for moms or group leaders, and a selection of additional projects on the topic for in depth learning. The book also contains sample schedules to adapt for homeschooling families, scouting groups, etc as well as convenient shopping lists for each project, complete with a resource guide and tips for parents and leaders.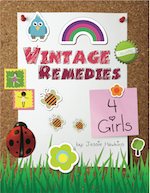 Vintage Remedies 4 Girls comes as a spiral-bound book containing 18 chapters, divided into three sections:
Section One:  Food, Nutrition, and Culinary Skills
Real Food
Kitchen Basics
Healthy Drinks
Snacktime
Sweet Desserts
Local Foods
Growing Your Food
Section Two:  Health and Body
Beautiful You – Naturally!
Immunity and Prevention
Coughs and Colds
Summertime Fun
Backyard Medicine
Aromatic Oils
Section Three:  Natural Living
Hospitality
Cleaner Cleaning
Green Gifting
Reducing and Reusing
A Natural Home
There are also three appendices containing further info:
Appendix One – Quizzes – include questions for most chapters (no quiz for chapters 14, 16, and 17), usually including 6 questions per chapter (the quizzes for chapters 15 and 18 contain 5 questions each).

Appendix Two - Schedules for Groups and Homeschools – scheduling info for homeschools/families (one- or two-year programs) and groups.
Appendix Three - For Further Learning – information on courses  offered by Vintage Remedies.
Vintage Remedies 4 Girls  is available HERE for $45.00.   
We did not prepare many of the recipes in the first section.  Since Sarah has food allergies, i need to research a bit more to find substitutions,  We did, however, make several of the projects in the Health and Body section (all were huge hits with the girls!), and made some  of the supplies in the cleaning section (all were huge hits with me!).   The minty foot lotion was a family favorite (at least among the girls).
WHAT I LIKE
I appreciate the Parent/Leader Guide for each chapter, which provides a overview of the primary purpose of each chapter, tips on presenting the chapter ideas, and a supply list for a featured project.
I like that it is a book I can give my girls to read on their own.   I also like that it's written  in a way that makes it seem Jessie is simply having a conversation with you.
Love that Section Two emphasizes natural beauty.
I really enjoyed the section on aromatherapy.  I have a set of essential oils, but wasn't sure what all I could do with them.  Now I have some more information.
I WISH…
I wish the Parent/Leader Guide appeared at the beginning of the chapter.  I also wish it included a needed supply list for the entire chapter rather than just the featured project. 
I wish Appendix Three offered resources other than simply other courses offered through Vintage Remedies.  I'd love to see books,  websites, etc. where I could find more information, but I realize that those things could be competitors, and that's likely why nothing is included.  Lists of sites where I might purchase some  of the things used in the book would be extremely helpful, though – empty lip balm tubes, raw cocoa butter, calendula petals, etc.  Alternatively, suggestions for where to find supplies could be provided by the first use of the supply (as is done for organic shortening in the recipe for the moisturizing cleansing cream).
I wish there were illustrations.  I think.  Honesty, I have changed my mind a couple of times on this point – maybe it's good to simply have black/white text.
WATCH OUT FOR
Even though Vintage Remedies 4 Girls is referred to as a "workbook," it is non-consumable.
Read the Parent/Leader Guide for the chapter before beginning the chapter.
Most of the projects in the book require adult supervision/help.
BE SURE TO
Check out the courses offered by Vintage Remedies -
Check out the other products from Vintage Remedies.
Check out Vintage Remedies' faculty and staff.
Sign up for a free e-mail newsletter series called 8 Weeks to Real Foods.
See upcoming conferences at which Vintage Remedies is an exhibitor.
See how the company gives back  to the community.

COMPANY CONTACT INFO
Vintage Remedies, Inc
230 Franklin Road suite 807
Franklin, Tennessee 37064
(located inside of The Factory at Franklin in historic downtown Franklin, Tennessee)
615-807-0882

General Questions and Comments:  info@VintageRemedies.com
Enrollment Questions and Assistance: admissions@VintageRemedies.com
Like Vintage Remedies on Facebook here.

FINAL THOUGHTS
We have really enjoyed this book.  Now that our review period is over, I am planning to go back through the book and cover each chapter, attempting to do all the projects (except the recipes for which I can't find an appropriate substitution for Sarah's food allergies). 
THOUGHTS OF MY CREW MATES
To see other reviews of this product, click HERE and look for the linky tools list at the bottom of the post. For giveaways, other product reviews and other fun things, follow the 2011-2012 TOS Homeschool Crew blog at:
**Disclaimer: As part of the 2011-2012 TOS Homeschool Review Crew, I received the product referenced in this review at no cost in exchange for my fair, honest and unbiased (and not necessarily positive) review. No other compensation was received.