This post should be subtitled "Catapults and trebuchets and clay…oh my!!"

We are a science-loving family.  Busy homeschooling mom that I am, I love it anytime I can get more bang for my buck in our studies.  When we were offered the Medieval Machines Pack by Pitsco Education, I jumped  at the chance!  The history of siege machines,together with the science of tension, torsion, mass vs. distance, elasticity, etc., together with math to compute averages, together with critical thinking to predict outcomes…well, I was giddy.  Adding to my excitement was that this was something that Daddy could do (and enjoy!) with the girls.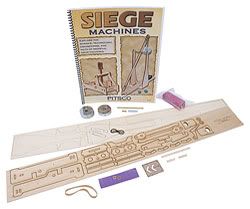 Pitsco Education has a wealth of products for grades K-12 which integrate STEM (Science,  Technology, Engineering and Math) into the activities. 
PRODUCT DETAILS
The Medieval Machines Pack, which retails for $21.95, includes a trebuchet kit, catapult kit, mass plates, and the Siege Machines book.  The mass plates are for counterweights for the trebuchet kit.  The kit is targeted for intermediate/middle school-aged children.  We also received a pack of Klean Klay to make more…projectiles – more fun for the girls! 
We started with the catapult.
Punching, glueing, and various stages of "southern engineering" (as my husband calls it) followed.
Once they got the catapult together, next came the trebuchet.  They were so anxious to start, I didn't have a chance to get a picture of the package contents. 
There followed more punching, glueing and southern engineering.  And more fun.
Have I told you about this book yet?
It is small, but mighty.  At only 32 pages, it is a wealth of information on the history of siege machines, the math and science behind them, loads of activities, and the national standards met by the activities.  Small, but mighty.  It's available HERE  separately for only $3.95, but I think to make the best use of it you really also need the Medieval Machines pack.   The book also has a small list of resources in the back for additional info/learning – and it includes the website for one of our favorite shows  Punkin Chunkin!
WHAT I LIKE
The girls loved loved helping their daddy put them together.  Truth be told, Daddy loved putting them together. 
The kits provide interactive learning.  Put it together, use it, figure out how to use it differently to get a different result – wonderful.
I like how it makes learning about science and history interesting.  That's key to loving to learn.
I WISH…
I wish my girls could have assembled these by themselves, but it was a little too difficult for them.  Of course, my oldest is just 6th grade, so they are a little on the younger side of the age range.   But there was still plenty of learning just helping Daddy and playing, especially with the great resources in the Siege Machines book.
WATCH OUT FOR
Read the instructions.  Really.  If dad helps, you know he'll want to just muddle through and try to figure it out on his own – but the instructions really are helpful, or something will get glued the wrong way, turned the wrong way, etc.
There are a few extra materials needed to construct the kits that aren't included – nothing that's hard to find or expensive, though.  Also, any kind of Super Glue, Crazy Glue, instant bond glue, etc. will work – we used wood glue.
The instructions say use a hobby knife for certain tasks.  My husband also recommends you use it to help get some of the wooden pieces out. 
The wooden pieces seem fairly thin, but they really are durable once it's all put together.
My husband says he had to make "minor adjustments" in a couple of the parts for the fit (i.e., slightly shaving down a dowel, etc.), but nothing major.
BE SURE TO
The Pitsco website is an incredible wealth of ideas, including suggested learning ACTIVITIES!   Here's one for the TREBUCHET.
Tons of other great products HERE, many of which are now on our wish list.
Check out the section of the Pitsco website just for HOMESCHOOL!
Great info at the DISCOVERY section of the website.
View an interactive digital catalog HERE.   Request a catalog HERE.
COMPANY CONTACT INFO
Mailing Address

Pitsco, Inc.
P.O. Box 1708
Pittsburg, KS 66762-1708
Order Toll Free
800-835-0686
Get Technical Support
800-358-4983
Call Us From Outside the U.S.
620-231-0010
Toll-free Fax
800-533-8104
Online Help Desk:
Send us your question
E-mail for Purchase Orders only
orders@pitsco.com
FINAL THOUGHTS
Loved this kit.  Loved it.  The girls learned so much.  Since the girls have seen the Pitsco CATALOG, I'm fairly certain we'll be buying more kits.    We'll also never look at the show Punkin Chunkin (an annual favorite around here) the same – now we've made those kinds of machines!
THOUGHTS OF MY CREW MATES
To see other reviews of this product, click HERE and look for the linky tools list at the bottom of the post. For giveaways, other product reviews and other fun things, follow the 2011-2012 TOS Homeschool Crew blog at:
**Disclaimer: As part of the 2011-2012 TOS Homeschool Review Crew, I received the product referenced in this review at no cost in exchange for my fair, honest and unbiased (and not necessarily positive) review. No other compensation was received.