There are many books that move me to tears – some of them are children's books which hold sweet memories. New additions to my list of tear-jerker books are always welcome.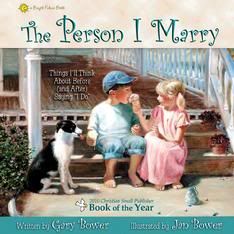 Recently I was given the opportunity to review an electronic copy of The Person I Marry
by Bower Books
(written by Gary Bower and using the beautiful oil paintings of Jan Bower as illustrations). As a mom of two young girls who are growing up entirely too quickly, this book struck a nerve. I have already begun praying for their future husbands (I hope all you moms do this too – it's never too early to start), but I'll admit I haven't taken a focused path of educating my girls on what to look for in a husband. This book to the rescue!
PRODUCT DETAILS
The Person I Marry
is part of Bower Books' "Bright Future Series" which shares Biblical principles for families in beautiful and down-to-earth ways. From the website:
They tackle important life topics in a powerful way that young children, teens, and grown-ups find relevant, non-threatening, and inspiring. Each book is a wonderful discussion starter for families, crossing all generational boundaries.
The book is subtitled Things I'll Think About Before (and After) Saying "I Do". This is not just for children – we should all do this. This book would make a great gift for many occasions – birthdays, bridal showers, baby showers, etc. I can't help but wonder how this could affect marriages if it was required reading before the wedding or, preferably, the engagement!
The hardcover book of 32 pages retails for $11.99 and can be purchased at Bower Books
.
To see a little more of the book, plus hear the Bowers' point of view while writing it, watch this video:
WHAT I LIKE
*Awards and endorsements - It has been endorsed by people such as Gary Smalley, Eric & Leslie Ludy, and the Duggar Family. Good, strong Christian families whose morals and beliefs I share.
*Jan Bower's oil paintings just give me the warm fuzzies. As I was reading this with my girls, there were many exclamations of "Awwww!!!". Sweet, sweet illustrations. Together with Gary Bower's poetry, it's truly a lovely book.
*Love a statement that Gary Bower used in his e-mail when he sent the link for the electronic version:
We created this book the year of our 30th anniversary as a tool for tenderizing the hearts of our own 12 children, and sparking comfortable conversation about marriage amongst ourselves.
May I be as mindful of the important conversations as the Bowers.
*I like that the book reinforces character traits that, in addition to looking for in a future spouse, we should focus on ourselves.
BE SURE TO
Explore the entire Bower Family Books website. It is a wealth of beauty and inspiration. Don't miss Our Blessing Song
.
Read Gary and Jan Bower's story HERE.
COMPANY CONTACT INFO
Address: Bower Books & Fine Art
A Division of Storybook Meadow Publishing Co.
7700 Timbers Trail
Traverse City, MI 49685
Phones: 231-941-0899
888-898-3207 (orders)
231-590-0077 (cell)
231-947-8903 (fax)
FINAL THOUGHTS
The electronic version of this book was lovely, but I look forward to owning a hard copy as I feel that a book like this needs to be read to children while snuggling. Somehow something was lost by having to sit at the computer with the electronic version we received for the review. But this review is about the book itself and its contents, not the format of the book received for the review.
So, with that in mind, I love this book. My girls love it too. I'll likely be purchasing the set of four books in hardback form.
THOUGHTS OF MY CREW MATES
To see other reviews of this product, click
HERE
and look for the linky tools list at the bottom of the post.
For giveaways, other product reviews and other fun things, follow the 2011-2012 TOS Homeschool Crew blog at:
**Disclaimer: As part of the 2011-2012 TOS Homeschool Review Crew, I received a link to an electronic version of the product in this review at no cost in exchange for my fair, honest and unbiased (and not necessarily positive) review. No other compensation was received.