I realize the importance of an advanced vocabulary repertoire when taking college placement exams. You'd think with that information I'd have an organized plan for studying vocabulary, but normally we're "hit or miss" on that subject.  When I was offered the opportunity to review a series of fiction books incorporating numerous vocabulary words, I jumped at the chance - what better way for my book-loving girls to learn vocabulary than through reading!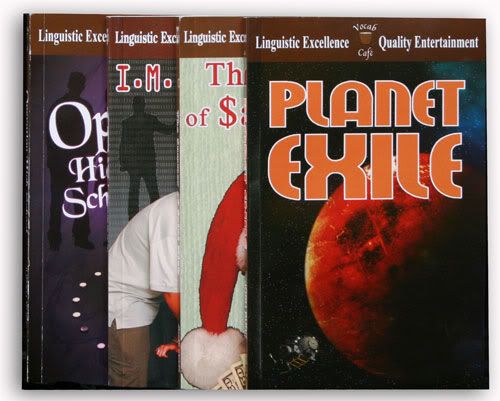 PRODUCT INFO
Vocab Cafe books introduces the reader to 300 vocabulary words specifically chosen to develop language skills. Each vocabulary word is used in the context of the story, and appears in italicized and bold type for easy reference. Rather than requiring use of a dictionary, the definition of each word appears at the bottom of the page on which it is used. A review list is included at the end of each chapter.
Currently there are four books in the series.  You can purchase all four books as a set from College Prep Genius HERE for $38.85 (regularly $51.80, or $12.95 each).  The books are targeted to junior high/high school and some middle schoolers.  Each book contains an original story, but does not contain foul language, illicit sexual themes, or sorcery (however in my opinion the story lines are not appropriate for middle school grades and, in our house, would  not be considered wholesome even for junior high/high school).
ABOUT EACH BOOK
Title: Operation High School
Author: Judah Burk
209 pages
High school life isn't as boring as it appears...
Emma is a new student at Providence High School who was invisible to almost everyone. A mysterious invitation appears in her textbook which leads to cold nights, shadowy figures, and even threats to national security. Through her adventure she discovers self-reliance, personal strength, and the value of friendship.

Title: I.M. for Murder
Author: Josh Burk
158 pages
A world wide web of lies, danger, and intrigue...
Will, the star tennis player for Lee High School, has no worries other than homework and his boss at Coffee Town - and winning the heart of his co-worker, Christa. A seemingly innocent Internet prank leads to a dangerous game of life and death with a serial killer.

Title: The $ummer of $t. Nick
Author: Josh Burk
155 pages
When a loser lucks out...
Nick is in love with the coolest girl in school, but as an ordinary high school student doesn't feel cool enough to talk to her. During summer vacation he discovers a small fortune and wonders if buying cool things will help his chances with the girl - or if there's a better use for the money.

Title: Planet Exile
Author: Josh Burk
119 pages
6 billion light-years away, adventure is a way of life...
Earlmont Astrofleet Academy for Boys, a military school orbiting the galaxy, is the destination of Maleck after pulling a prank. Maleck's roommate at the Academy is another prankster and together they wreak havoc on the ship. When the ship crash lands on the Planet Exile, they begin a quest to stop a rebellion, overthrow a dictator and rescue a princess.

 
WHAT I LIKE
I love the concept.  Love it.
I really appreciate that the reader doesn't need a dictionary, since the pronunciation and meaning of each vocabulary word is included at the bottom of the page on which it appears.
Like that each vocabulary word is shown in bold/italics.
I WISH/WHAT I DIDN'T CARE FOR
I wish I could say that my 6th grader enjoyed the books. Unfortunately, after pre-reading them (as is my habit for books from unfamiliar sources), I felt a couple of them were inappropriate for her age group, despite the despite the given age range that includes middle schoolers .   Now I'll admit I've been accused of being overprotective, but the longer my children can retain their innocence, the better I like it - they'll have their whole lives to hear about and have to cope with the evils of the world.  I.M. for Murder deals with a serial killer - not something I feel compelled to expose an 11-yo to. It also contains a scene where a cat is killed, which I know would upset my daughter.  Since the book clearly states it discusses a serial killer, I read it first – and perhaps it tainted my opinion of the other books, but I I was leery of allowing her to read any of them.  I also did not appreciate the initial concept of The $ummer of $t. Nick. On the back of this book, it states "When a loser lucks out…".  The concept of "loser" brings to mind someone making an "L" shape and holding it to their forehead – that is not an attitude that I want to foster in my home.   Taking these and other similar instances (deceitful children, for example), I'm not sure I agree with the "wholesome" label that has been given to these books – at least they are not considered wholesome in my home.
I hope in the next printing the typos and grammatical errors will be corrected.
I wish the concept would be applied to books for younger children (including middle-schoolers).  I think the age range for these books should be changed to late junior high and high school.
Sometimes the usage of the words seemed stiff. 
BE SURE TO
Pre-read the books if your children are younger than high school or if you have sensitive children.
Explore the entire College Prep Genius website, as it contains great info regarding college entrance tests and scholarships.
View other College Prep Genius products HERE.
You can learn more about these books and their authors at the Vocab Cafe website HERE.
COMPANY CONTACT INFO
College Prep Genius
P.O. Box 398
Hurst, TX  76053
81-SAT-2-PREP (817-282-7737)
info@collegeprepgenius.com
FINAL THOUGHTS
Again, I love this concept and think a lot of great things could be done with it – and I applaud the Burks for attempting it.   I can't, however, recommend these books to anyone with middle-school age children, and would hesitate to recommend them to anyone who has a conservative Christian home, as my main objection to them is content.
THOUGHTS OF MY CREW MATES
To see other reviews of this product (and College Prep Genius' SAT prep course), click HERE and look for the linky tools list at the bottom of the post. For giveaways, other product reviews and other fun things, follow the 2011-2012 TOS Homeschool Crew blog at:
**Disclaimer: As part of the 2011-2012 TOS Homeschool Review Crew, I received the four books in the Vocab Cafe series at no cost in exchange for my fair, honest and unbiased (and not necessarily positive) review. No other compensation was received.