A fun game with an educational component always perks me up.  History buffs that we are (actually, history and science buffs), I was excited to learn we'd be reviewing Wise Alec™: Civilize This! by Griddly Games.
Product Details

Civilize This! is made as an expansion pack to the Wise Alec™ Family Trivia game.  The website describes Civilize This! this way:
Cultural trivia with a adventurous twist!

Hello Time Travelers! Explore the world's cultures across time with the trivia game based on the award-winning Wise Alec™ Family Trivia Game. There are 300 questions to test your knowledge of Ancient, Medieval, and Modern cultures. Two levels of questions on each card let everyone from young scholars to history buffs play together. Plus, Wise Alec™ cards will have you doing tongue twisters, brain teasers, and fun exercises!
Other expansion packs include Nature Nuts and Sports Buffs.  Each of the expansion packs can also be used as a travel game.
The Civilize This! expansion pack comes as a boxed tray with 1 multicolored die, 3 decks of color-coded trivia cards (one each for Ancient, Medieval and Modern history/culture), and 1 deck of Wise Alec™ cards.  For convenience, the rules are on the inside of the cover.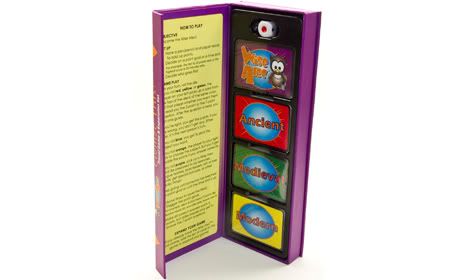 Each card in the three trivia decks contains two questions, one slightly easier (worth 3 points) than the other (worth 7 points).  The rules for the expansion packs are fairly simple, and you can view them here (in .pdf format), or watch this YouTube video:
The game is meant for ages 8+, and for 2-6 players.
You can't buy the game directly from Griddly Games, but you can find a list of retailers here.  Prices will vary according to retailer.
What I like
I like any game that has an educational component.  This one feeds into our love of history.  It's a great way to review, without calling it "review".
I love that it's compact and easy to play.  It's also going into our suitcase for our trip to Italy.  
The girls were always excited to get an "action" card from the Wise Alec cards, particularly the "do the hula" card!  Another favorite was the "yodel" card. 
I wish… 
The orange on the multicolored die looked more orange.  I know that's a small complaint, but often we had to flip the die over to make sure it had actually landed on orange and not yellow.
I hope they make more expansion sets!
Watch out for
If your family doesn't love history and hasn't studied all three time periods, I'd suggest setting the points goal low at first to see how your kids do.  Despite being history buffs, even our initial points goal was too high and the girls were frustrated that it was taking too long.
There are certain questions that may be objectionable to your family (mythology, buddhism, etc.).  I'd suggest reviewing the cards before you start playing so you'll have a chance to remove any objectionable cards.
Your kids may need help with reading the cards.
There are some typos on the cards, but we made it part of the game to find them – we gave 5 points to the reader of the card if she found, and could correct, a typo or error.
Be sure to
Check out the other quality games offered by Griddly Games here.
Check out the Griddly Kidz Zone here, where your kids can play games and download coloring sheets.
See the awards the various Griddly Games have received here, and check out media coverage the company has received here and here.
Company contact info:
Head Office:
633 - 5960 No. 6 Rd
Richmond, BC
CANADA V6V 1Z1
Email:   info@griddlygames.com
Phone:   1 (604) 249 502
Final thoughts
We really enjoyed this game, and the girls have asked if we can get the other expansion packs plus the main game.  I'm adding them to our Christmas wish list!
Thoughts of my crew mates
To see other reviews of this product, click here. For giveaways, other product reviews and other fun things, follow the 2011-2012 TOS Homeschool Crew blog at:

Disclaimer: As part of the 2011-2012 TOS Homeschool Review Crew, I received the product described in this review at no cost in exchange for my fair, honest and unbiased (and not necessarily positive) review. No other compensation was received.