We love games.  We try to have a family game night every week, but often it gets skipped in favor of things that have to get done.  I love it when we have a game to review, because it forces us to have games nights!  Flea Circus by R&R Games was a huge hit with my girls!
Product Details
Flea Circus is an adorable game about a circus of fleas where the spectators are cats and dogs (doesn't simply hearing the description bring a smile to your face?).  The R&R Games website describes the game best:
STEP RIGHT UP! Calling all Cats and Dogs! The Flea Circus is about to begin!

It's a wild time under the Big Top as dogs and cats race from one show to the next. Players use their best Flea Circus acts to attract the most cats and dogs. Play your cards right and you can steal the audience away from your neighbor! But watch out for the Animal Catcher... He'll snatch your cats and dogs away!

With all this excitement, how's a Flea Ring Circus supposed to keep up? When all the cats and dogs are gone, whoever ends up with the most animals at their show wins the game!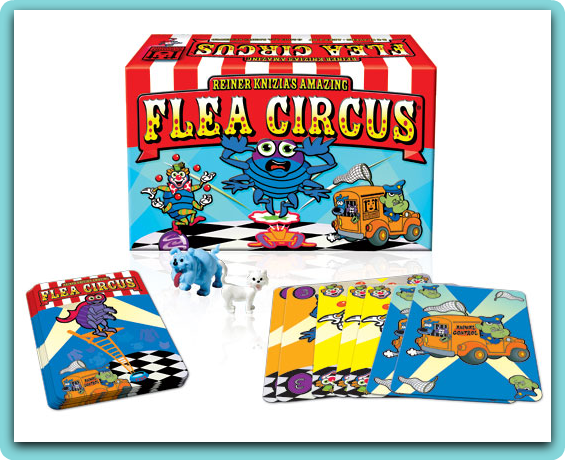 The game is intended for 2-6 players ages 6-up (way up in my case, and I had a blast playing with the girls).  It comes with 55 "amazing flea cards", 20 rubber cats and 20 rubber dogs.    You can play a complete game in 10-20 minutes.  The gist of the game is to gather the most spectators for your "flea circus".  Rather than trying to explain how to play, you can see the complete rules here.  Flea Circus retails for $15.95 and can be purchased from R&R Games. 
I had never heard of R&R Games before Flea Circus arrived.  The package arrived with a 16-page catalog containing lots of fun-looking games.  (I'm especially interested in the Masters of Venice game since we'll be going to Italy soon, and will probably put that game on our Christmas list.)  The catalog reflects that most of their games have won national awards.
Our niece from Germany was visiting during our review time for this game, and the girls played numerous times.  The day she was due to leave for the airport she begged to play one more game of Flea Circus.  I think that's a pretty good endorsement!
What I like
Love that it's a compact, portable game – no playing board needed.  In fact, the girls love the game so much that it's going to Italy with us.
Part of the game includes taking spectators (i.e. cats and dogs) from other players.  We had a great time "stealing" spectators from each other.  "I want my dog back!" became a familiar refrain, and each time it was spoken the result was peals of laughter.
Love that most of their games are award-winning.  One of their games, Time's Up, has won numerous awards and now has an iPhone and iPad app (which I shall soon be downloading).
I was impressed that they provide evidence of compliance with safety regulations (here).
I wish…
I wish there were more cards.  My girls wish there were more cats & dogs.  In our house the game was played with 3-4 players, and we ran out of cards fairly quickly.  I realize it's done that way because it's meant to be a short game (10-20 minutes playing time), but we were having so much fun we hated to have it end!  I guess the solution for my house might be to just buy another copy of the game!
Watch out for
Reading the rules through the first time was confusing to us.  We found just jumping in and playing and referring to the rules as we went along to be easier.  Before we knew it, we didn't need the rules anymore!
Be sure to
R&R Games has graciously provided a 20% discount on any purchases from its website, and the coupon is valid until the end of 2011!  Use the coupon code CREW20.
FAQ can be found here.
Read through the News section here.
Make sure you check out all of R&R Games' game offerings at their website.
Company contact info:
Send your comments and questions to: Info@RnRGames.com
Write to: R&R Games, Inc., PO Box 130195, Tampa, FL 33629
Call us at: 1-888-8RIDDLE
Final thoughts
The girls loved this game.  It is simple (once you understand the rules and what each of the cards means) and quick to play (too quick for our tastes!).  It'd make a great Christmas gift – and don't forget to use the coupon code!
Thoughts of my crew mates
To see other reviews of this product, click here. For giveaways, other product reviews and other fun things, follow the 2011-2012 TOS Homeschool Crew blog at:

Disclaimer: As part of the 2011-2012 TOS Homeschool Review Crew, I received the product described in this review at no cost in exchange for my fair, honest and unbiased (and not necessarily positive) review. No other compensation was received.