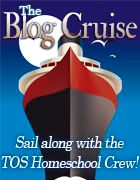 This week's TOS blog cruise focuses on favorite science resources.  As I perused shelf after shelf of books and resources we have in our home to satisfy our science-obsessed girls, I struggled to pick our favorite or "just the right one" to describe.
Suddenly it occurred to me – our favorite science resource isn't a book or a kit or a website or a museum or any other "thing."  Our favorite science resource is nature itself – God's creation. 
Want to learn about botany?  No better place than your own back yard, or a local nature preserve, or an empty, grassy field.
Want to learn about zoology?  Sit on your front porch and watch a squirrel pack away acorns for the winter or a bird prepare a nest. Visit the zoo, or a wildlife preserve. 
Astronomy?  Check out the moon and stars on a clear night.
Physics?  Go to the park and play on the see-saw.
Marine biology?  Explore a creek.
The majority of scientific fields can be explored (at least preliminarily) by studying  nature.
My goal is to interest my girls in something that we see in nature, then learn more about it using the other tools at our disposal – not vice versa.  See things in nature first then studying them ignites their curiosity and makes it more interesting.
Sure we have other favorite tools that we use to study science – our microscope, our telescope, our voluminous collection of science-based books, our museum  memberships, PBS broadcasts, the internet – but our favorite is nature itself.