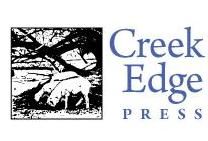 As a homeschooling mom who also works part-time outside the home, I appreciate homeschooling curricula/helps which my girls can do somewhat independently.  Independent tasks in our home accomplish two things:  they allow the girls to have partial control of what they study, and it give me peace of mind knowing that they are still learning when I'm working.
PRODUCT DETAILS
The Creek Edge Press task cards were created by Amy Kate Hilsman for use with her daughter for first grade life science.  Since that first set of task cards, Hilsman has expanded the offerings, and cards are now available for various topics in history/geography, science, math, music and art.  The cards combine elements from different approaches of homeschooling - Montessori, Classical, and Charlotte Mason – and are being  used in homeschools, Montessori schools and charter schools both domestically and internationally. 
The science task card sets are $18 per set, or you can purchase all four sets for $65.  The history/geography task card sets range from $18-$20, but you can purchase all 6 sets for $90.  The music set and the art set are each $32.
The TOS crew was given their choice of cards and, since our co-op has been studying the elements and the periodic table, and because my girls have always been curious about scientists, I requested the Chemistry and Great Scientists task cards.  The set includes a small handbook (13 pages), which contains tips for the tasks, preparing an environment, book lists and tips, and a card-by-card list of topics.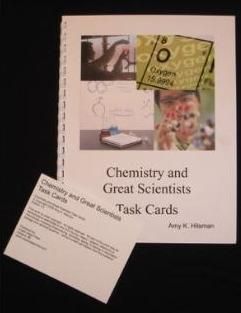 The  Chemistry and Great Scientists set include 30 task cards.  Most of the chemistry task cards begin with encyclopedia research, provide further reading, and defining the topic (separated, I suppose, so that the child can check off each task as it's completed),then progresses with a sort of "narration" assignment (i.e., "write a summary…"), and concludes with a lab/lab report assignment. 
Some other chemistry cards expound on the prior topic.  For example, task card #11 is on transition metals, and follows the pattern in the prior paragraph.  Task card #12  (and four other cards) uses the following pattern:
The Great Scientists cards follow the basic format of most of the chemistry cards, but add time line work and writing a summary about the life and work of each scientist.
WHAT I LIKE
Replacement cards are available to all owners of complete Task Card Sets at a rate of $.50 per card – helpful for those of us who often lose things!
I love that the girls can use these fairly independently. 
I love a good book list.  :)
Love the focus on the periodic table.  That will be a great complement to our current co-op science focus.
I WISH…
I wish a summary card could be included that lists all the tasks, similar to the list in the booklet – much more convenient to have available for those unexpected stops at the library.
I wish there was a way to include at least a small graphic on the cards related to the topic.  Nothing fancy, just a black/white graphic of an atom,  or a beaker, or a corner of the periodic table.  Some kids don't respond well to just black/white text - I have one that likes plain, and one that likes as much decoration as possible.  :)  I understand, though, that sometimes simple is best.
I wish there was a suggested list of labs for busy moms (like me!).  Perhaps one suggested lab/experiment per card from the relevant core book from the book list.  I'll admit that sometimes if I have to figure it out, it never gets done.
WATCH OUT FOR
The cards are meant to encourage investigation and discovery-based learning.  The author recommends making all necessary materials for all cards available in one spot,  but that's not possible for us.  No big deal – my girls are old enough to know where all the correct books are located, and old enough to ask for any necessary materials.  If your children are younger, though, you may want to dole out the cards one at a time and gather all supplies for that card.
You will need access to certain books to make the most of these cards.  The course guide includes a list of core books, science dictionaries, further reference books, and supplemental books.  Since we are science-obsessed, we already had many of the books listed.  If you're not science-obsessed, you may need to invest in a couple good reference books (but you can usually pick them up at Half Price Books if there's one near you).
Initially I thought the girls could just pick whatever card they wanted to do,  but it actually seems fairly important to do them  in order.  Digging a little deeper on the website, I found this from the author:
Science task card sets follow a progression from the most concrete and familiar life science through the more abstract concepts involved in the study of Chemistry. The science cards within each set are arranged in a purposeful manner that allows students to build on the learning and efforts made on previous cards.  
That makes complete sense – just differs from my initial impression of the cards.  Not a bad thing, mind you, just important to understand.
The author grants permission to copy pages of the booklet for use in your own household, but the cards are not to be copied.
BE SURE TO
Take advantage of the MidWinter Sale – for orders of $36 or more, use code MidWinter for free domestic shipping.  I'm not sure how long this sale lasts.
View the scope and sequence and the recommended books/enrichment materials list for the Chemistry/Great Scientists cards.
View the scope and sequence and recommended books/enrichment materials lists for the other task cards offered by Creek Edge Press HERE.
View the FAQ.
Read Amy's story, including how the cards were first developed.
Read articles about the task-card approach, including a list of recommended reading.
View the photo gallery,  which includes projects made from the task cards.
Shop for other products by Creek Edge Press.
COMPANY CONTACT INFO
Inquiries should be sent to:
FINAL THOUGHTS
We actually enjoyed these more than I thought we would.  I think the girls' favorite parts were the tasks about the periodic table (but we haven't made it very far with those yet) and the cards on the scientists (we love biographies in this house).
THOUGHTS OF MY CREW MATES
To see other reviews of this product click HERE and look for the linky tools list at the bottom of the post. For giveaways, other product reviews and other fun things, follow the 2011-2012 TOS Homeschool Crew blog at:

**Disclaimer: As part of the 2011-2012 TOS Homeschool Review Crew, I received the product referenced in this review at no cost in exchange for my fair, honest and unbiased (and not necessarily positive) review. No other compensation was received.