Our co-op is studying more Latin this year, including the Latin translation of John 1:1 (In principio erat verbum ….).  Honestly, with the increased Latin content together with everything else we're studying, the girls are getting a bit Latin-weary – so initially when I received Visual Latin to review for the TOS homeschool crew, I was slightly worried about how they would feel about using/reviewing another Latin product.  I worried needlessly, as they loved the video lessons.
Product Details
Visual Latin was created by two homeschooling dads – one, a Latin teacher (Dwane Thomas), the other, a producer (Thomas Purifoy, Jr.).
From the website:
Visual Latin is a rather unusual Latin curriculum. For instance, we think:

It's better to make students laugh than yawn.
Shorter videos teach more effectively than longer ones.
Small successes lead to big successes.
Children like reading Latin more than memorizing it.
Latin 1 is the first year of Visual Latin and is intended to be taught over one school year (at approximately 1 lesson per week).  Each of the 30 lessons includes three short videos (grammar, sentences, and reading), and according to the website three .pdf worksheets (but as far as I can tell only one of the .pdfs is an actual worksheet for the students – the others are a .pdf of the answers to the student worksheet questions and a .pdf of general instructions, the latter .pdf appearing to be the same throughout all the lessons – at least that's what we received in our download of the first 10 lessons).  You can view the Scope and Sequence for Latin 1 here.  Latin 1 is targeted for ages 9 and up. 
You can purchase Latin 1 here, either in DVD format or as digital downloads (in iTunes format).  There are many purchase options – from the entire set of 30 lessons on DVD ($80), to a download of ten lessons at a time ($25).  The DVDs can also be purchased for use in a group/class setting.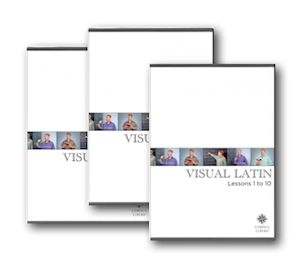 While I expected my girls to balk at yet more Latin, they actually enjoyed watching the lessons.  Dwane makes the lessons engaging and interesting, and throws in humor here and there.   The "feel" of the lessons, to me, was actual, which helped my girls not be intimidated.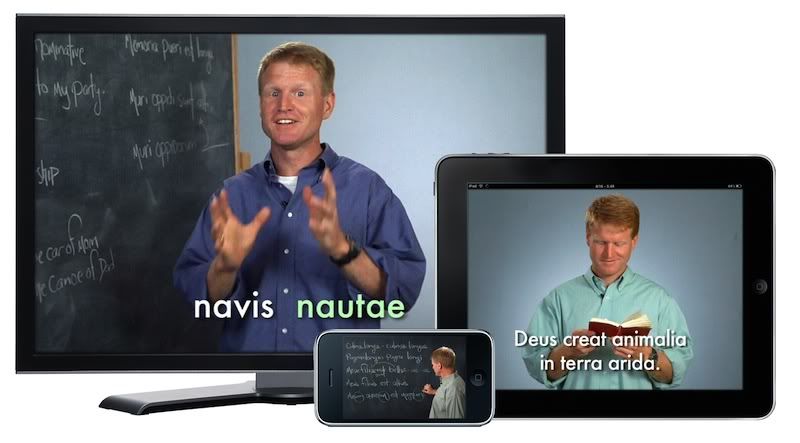 See for yourself by viewing the first regular lesson (plus download the .pdf worksheet and answer key) here.
What I like
I like that Dwane uses humor in the lessons.  I've always said homeschooling is fun – why shouldn't our curriculum also be fun?
Love love love the downloadable lessons.  I can load them on our iPad and we instantly have a portable Latin class!
Love the translation portion of the lessons.
I like that the lessons are "subtitled":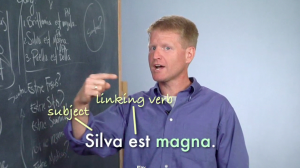 Love the vocabulary reference sheets provided at no cost.
The lessons are relatively short, which works well for our family.
Dwane makes the videos fun.  And funny.  Dwane's jokes still get a chuckle the second (or third, or fifth, or…) time around.
I wish…
There were more worksheets.  Many kids don't like worksheets, but my girls do, and I think more worksheets (or at least a section for review worksheets, if not worksheets provided with each individual lesson) would be helpful.
Watch out for
Latin pronunciations, as there are different versions of Latin (Classical vs. Ecclesiastical).  Dwane was taught the Classical pronunciation, but attempts to use Ecclesiastical.  Be aware of the differences, so you can help your child know the correct pronunciation for the version you are learning.
Dwane doesn't "edit" out his mistakes on the lessons. I'm torn about that – in a way I think it shows that imperfection is okay, that we're all in the process of learning.  My only concern would be is if a child heard the error, but didn't hear the correction.  That's not really a problem in my house because the girls listen to the lessons repeatedly, and many times they're parroting back what he says, but just be forewarned.
Be sure to
Check out all the free Latin resources here!
Read the what/how/why of the set-up of Visual Latin here.
Download the four introductory lessons plus two regular lessons here.
Read the company's recommendations for using their Latin Alive here.
For an "all the specs" FAQ, click here.
If you're interested in Latin classes with more teacher interaction, Dwane also teaches online Latin classes – for info, click here.
"Like" Visual Latin Facebook – vocabulary, jokes, Latin practice, and all-around-fun. 
Note the first ten lessons of Latin 2 are available (the lessons are numbered consecutively, so lesson one of Latin 2 is actually "lesson 31"); the remaining lessons will be released during this (2011-2012) school year.
Company contact info:
Address:  The Compass Store, 609 West Iris Drive, Nashville, Tennessee  37204
Email:  info@visuallatin.com 
I did not see a phone number on the website.
Final thoughts
The girls and I really enjoyed  these lessons.  I plan to purchase the rest of Latin 1 for the girls to simply watch, and then after the first of the year we'll go through and do the study sheets and really learn it.  I suspect I'll be pleasantly surprised that they'll learn simply by watching the videos.
Thoughts of my crew mates
To see other reviews of this product, click here. For giveaways, other product reviews and other fun things, follow the 2011-2012 TOS Homeschool Crew blog at:

Disclaimer: As part of the 2011-2012 TOS Homeschool Review Crew, I received the first ten lessons of the product described in this review at no cost in exchange for my fair, honest and unbiased (and not necessarily positive) review. No other compensation was received.